---
Erasmus ENG
Be one of incoming students at Department of Geography at University of Minho. Come to get to know friendly Portugal, graceful and historical Guimarães and the university!
---
…PORTUGAL

Portugal is a country that is located in southwestern Europe on the Iberian Peninsula. Portugal is the westernmost country of Europe and is bordered by the Atlantic Ocean to the west and south and by Spain to the north and east. Azores and Madeira are also part of Portugal.

The history of Portugal can be explained through following key dates (those who want they can search for more information either online or in library):

Key dates in Portuguese History
1143 Portugal recognised as a sovereign kingdom by Leon and Castile
1267 Castile gives up Algarve to Portugal and completes its modern territory
1373 Anglo-Portuguese Alliance (oldest in Europe and still in existence)
1419 First voyage of exploration (Madeira) on behalf of Prince Henry the Navigator - son of Joao I and Phillipa of Lancaster - daughter of John O'Gaunt, Duke of Lancaster
1498 Vasco da Gama reached India via the Cape of Good Hope
1500 Alvares Cabral reached Brazil
1510 Goa - seat of Portuguese vice-royalty of India - occupied
1518 Canton, first Portuguese ship to China
1518-45 East of India, New Guinea and Japan
1580-1640 Spanish rule - loss of some territories to the Dutch
1815 Brazil declared a kingdom
1822 Brazil became an independent empire
1877-87 African colonies established
1889 Brazil declared a republic
1910 Portugal declared a republic
1926 Military coup - state of dictatorship
1961 India occupies Goa/Angola guerilla war begins
1970 Salazar dies but regime continues
1974 25th April military coup. Revolution of the Carnations (Cravos) - bloodless
1986 Entry into EU
1998 Expo 98 - last big exposition of the millennium.

For us – geographers one of the most important and interesting topic is colonial and postcolonial history together with spreading of the Portuguese language. Portuguese is the most widely spoken in the southern hemisphere, and the third most spoken in the Western world.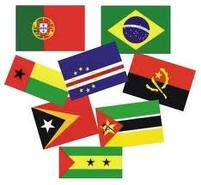 In addition to Brazil and Portugal, it is used in Angola, Cape Verde, Guinea-Bissau, Macau, Mozambique, São Tomé and Principe, East Timor and (since 2007) Equatorial Guinea, as well as in the former territories of Portuguese India (Goa, Daman, Isle of Angediva, Simbor, Gogol, Diu and Dadra and Nagar Haveli) and in small communities that were part of the Portuguese Empire in Asia as Malacca, Malaysia and East Africa as Zanzibar, Tanzania.

Which places to visit in Portugal?

Most of Erasmus students chose to travel abroad also because of the possibility to explore a new part of the Europe/world. If you hesitate which country to choose, here is the best of Portugal to vote for this country (chosen by me together with one user of Yahoo Answers site):

1. Guimarães – where else to start? It is a craddle of Portugal and you will surely enjoy its atmosphere!
2. Porto – not so far from Guimarães, just 75 minutes by train or less than one hour by bus. You will certainly love the Dom Luís Bridge with two decks, the riverside (Ribeira) and guided tour in the Port wine cellars. And the airport (the closest one from Guimarães) is also keeping high quality.
3. Lisbon – the capital with amazing atmosphere, city of seven hills. Don´t forget to visit Belém with its characteristic tower (Torre de Belém) and the Monument to the Discoveries nearby.
4. Aveiro – town located about 65 km souther from Porto, easily accesible by urban train; it is called as The Portuguese Venice. To taste typicall "ovos moles" is one of the "musts" in Aveiro.
5. Coimbra – town with famous university, sort of Harvard´s Portuguese version.
6. Peneda - Gerês – the only national park in Portugal, by Spanish border in the north of Portugal.
7. Algarve – favourite destination for English tourists. Warm water but higher prices in comparison to Guimarães.
8. The Douro river valley – take a train trip from Porto to Régua or up to Pocinho to experience one of the most exciting railway line in Europe through vineyards where the Port wine is born.
9. Cabo da Roca – the most western point of Europe, important place for us, geographers, as well as Cabo de São Vicente.
10. Any restaurant and bar – enjoy great Portuguese wine (not only the famous Port one), bacalhau (cod fish) in many ways of preparation and don´t forget to ask for a cup of coffee with milk that any godforsaken bistro can prepare.

Enjoy the country!
---
…GUIMARÃES

Guimarães has its origin in the 10th century, at time that the Countess Mumadona Dias ordered the construction of a monastery which became the focal point for a settlement. For it defence sehe ordered a Castle to be built on a hill a short distance away. A street grew-up linking one to the other – the Rua de Santa Maria (still existing, one of the "must sees" in the town).

Later the monastery got great importance due to the privileges and donations by kings and nobility. It became a famous centre for pilgrimage attracting a lot of prayers. And while the town continued to grow inside the walls which were erected to defend it, the orders of poor friars arrived in Guimarães and made their contribution to shaping the town. We can say that during the 15th century the lay-out of the city within the walls had been established.

City walls (most of them) were ruined in 19th century when new squares such Largo Martins Sarmento or Largo Condessa de Juncal were opened as well as new streets and avenues. But we must notice that almost everything was done in harmony with the conservation of the historic town centre.
PHOTOS OF GUIMARÃES



Places you must see in Guimarães:

The Castle – build to defend the monastery, it came through some improvement in 13th and 15th century and now it is one of National Monuments. Free entry, entrance fee only to enter the tower.

The Palace of the Dukes of Bragança – built in the 15th century, this house is a unique example of the influence by manorial architecture of Northern Europe (steeply inclined roofs and cylindrical chimneys). It had to be rebuilt in the 20th century, now it is a museum open to the public.

Chapel of S. Miguel – small chapel was built at the beginning of the 12th century and it has a symbolic link to the founding of the nation, it is said that King Afonso Henriques was baptised here. Free entry.

Rua de Santa Maria – this was one of the first streets in the town, it served as the link between the monastery and castle. There are many significant buildings along it. The street has its own characteristics and genius loci.

Squares in the centre – Largo da Oliveira, Praça de Santiago or Largo Toural take the visitors on the way through ages. Praça de Santiago is very ancient square and it linked to the Largo da Oliveira. Largo Toural as one of the newest parts of the centre is very pulsating place with bars, fountains, benches and unfortunately cars.

Streets – Rua D. João I and Rua Nova are charming places to have a walk through.

Churches – S. Gualter is one of the symbols of Guimarães, placed in Largo República do Brasil and it is lightened in the night. Church of N. Sra. Da Oliveira that is located right in the centre of the town, was build at the end of 14th century.

Penha – this hill is a great place to look down upon the whole town and surrounding landscape. It is possible (recommended) to take a cable-car trip from the town.

Restaurants – the price for dinner depends on places you want to visit. You can find very "low cost" restaurants/fast foods (such as Cristo Rei with meal from 3,5 euro – located on the corner of streets R. de Alexandre Herculano and R. Cap. Alfredo Guimarães) or ask for special student ticket in a canteen – you can use it in several places in the town. And of course you can eat on the main square surrounded with ancient buildings where you are served by neat and elegant waiters; here for approximately 12 euro.

Bars and night life – if you want to have a rest from the studies you can find some places in the town to have a chat with another Erasmus students. Try Tásquilhado Bar right in the centre (R. de Santa Maria). And there is a disco (especially for university students) near dormitory and Azurém Campus called BA (Bar Académico) in case you want to spend a non-ending night.
---

... UNIVERSIDADE DO MINHO

The University of Minho (UM) was established in 1973 and started its activities in academic year 1975/76. The university has to main campuses in Braga (Gualtar) and Guimarães (Azurém). The rector´s seat is in the centre of Braga (Largo do Paço) and the most of disciplines are taught in Gualtar campus. Students of architecture, geography, applied statistics as well as main part of engineer studies are located in Guimarães.

List of the study programmes is available at the web-pages of the university. http://www.uminho.pt/en/study/course-catalogue/courses



... THE AZURÉM CAMPUS

As it has already been mentioned, UMinho is located in two main campuses in Braga and Guimarães. The campus in Guimarães lies in a district called Azurém.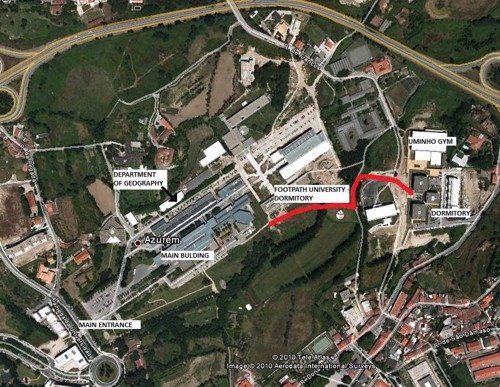 Campus Azurém
PHOTOS OF AZURÉM
---

... DEPARTMENT OF GEOGRAPHY

Department of Geography (Departamento de Geografía) located in Azurém Campus, Guimarães, is one of parts of Institute of Social Sciences. The department offers stuies in bachelor degree (Geography and Planning), master degree in Spatial Planning and Management and doctoral degree in Human Geography, Physical Geography and Environmental Studies and Spatial Planning.

Geography has been taught in Guimarães since academic year 1996/97 when degree programme Geography and planning was opened. One year later the possibility to study was extended thanks to new master degree study programme as well as PhD studies. The Department of geography has a total of 12 teachers and two assistants nowadays.

The department disposes of several specialized sites such as Laboratory of physical geography or GIS laboratory, map collection and computer room. The teachers of the department participate in projects of different research centres withint the entire Portugal.

http://www.geografia.uminho.pt/Default.aspx?lang=en-US - English website of the department
http://sites.google.com/site/socratesanderasmus/ - Site of international cooperation Socrates/Erasmus of UMinho´s Department of Geography


Department of geography - plan
Key:
1- Profª Doutora Paula Remoaldo
2- Profº Doutor Miguel Bandeira
3- Profº Doutor Ana Francisca Azevedo
4- Profº Doutor João Sarmento - Erasmus coordinator
5- Outside profs.
6- Prof. António Vieira & Drª Vitor Ribeiro
7- Direction of the department - Profº Doutor Paulo Nossa
8- Drª Manuela Laranjeira
9- Prof. Bento Gonçalves & Prof. Francisco Costa
10- Drª Virginia Teles & Drª Mª. José Caldeira & Prof. Flávio Nunes
11- Secretariat
12- GeoplanUM
13- GIS lab
14- IT lab
15- (Map)library
16- NIGP – Núcleo de investigação em Geografia e Planeamento
* Rooms belonging to N.E.P.S (Population & society Research group)
PHOTOS OF THE DEPARTMENT
---
… HOW TO GET TO UMINHO

The fastest way how to get to Portugal is of course by plane. There are three main airports in continental Portugal – Faro in the south (Algarve), Lisbon as a main one and Porto. And as the cities of Guimarães and Braga are located in the north of Portugal, the best and easiest way is from Porto airport.

Porto airport (Aeroporto Internacional Dr. Francisco de Sá Carneiro) lies northern from the city of Porto but it is linked to the rest of Porto by metro line E (violet colour). From the Aeroporto station (terminal station) it takes about 33 minutes to get to Campanhã station, the main railway station of Porto. The price for journey Airport-Campanhã is €1,8 and you have to purchase also an Andante card for more 50cents – don´t throw away the card, you can load your next ticket on the same card.
Access to the metro station at the airport is quite hidden but if you follow the signs at the airport you can miss the right direction. In underpass you will find ticket machines where you buy the card with the ticket. It isn´t recommended to travel without a validated ticket, the current penalty for travelling without a ticket is €77. And it is important to add that tickets must be validated before travel by scanning them in front of the yellow machines located in stations. Whenever you change the train you must renew you validation!

When you get to Campanhã station you can easily change to suburban train to Guimarães. It usually departs from the 1st platform. The ticket can be purchased at ticket offices at the main hall or in ticket machines alocated within the station. The price for Campanhã-Guimarães journey is €3 and the journey takes about 1hour and 10 minutes. There is also possibility to take train to Braga and get off in Lousado station and change to train to Guimarães. I recommend to discuss it with staff of the station or ask for free paper version of timetables (or download them from webpages of CP – www.cp.pt).

After you arrival at Guimarães you will probably want to take taxi from the station to dormitory or house where you are going to stay. The Guimarães station (it is a terminal station of the line) lies on edge of the town and despite the town is not so large you will maybe appreciate the taxi service. The taxi rank is just in front of the station building. The possible price for journey station-dormitory (or university – the distance is similar) can be €6. There is also a city-bus network in Guimarães but it is not the best way how to explore the town for the first moment – it is quite chaotic and there are almost no timetables at stops, also the price (€1,52) is not the lowest one.
Easier but also more expensive possibility to get from Porto airport to Guimarães is a direct bus connection by GETBUS. The price Porto - Guimarães is €7,5 one way/€12 return, the timetable and more information are available at getbus.eu. They offer 9 daily buses between these two points including one early morning to the airport and late at night from the Porto airport. The station in Guimarães is Bus terminal (Central de camionagem) which is a part of the GuimarãeShopping centre (as SHOPPING CENTRE on the picture below), the bus stop at Porto airport is located just outside the Arrivals floor.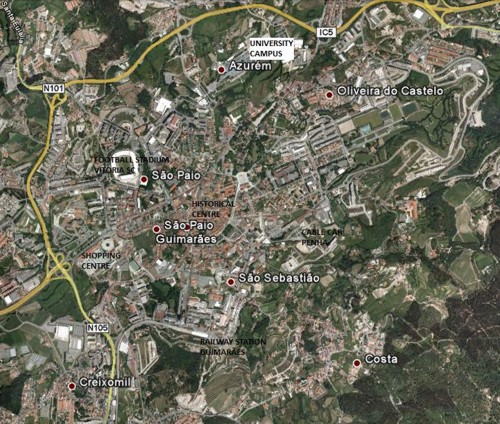 Guimarães